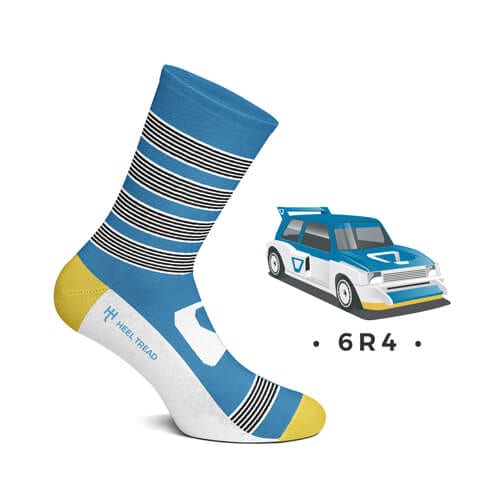 MG 6r4 Socks
The MG6R4 was launched in 1984 making its press debut at London's Excelsior Hotel in London. 6R4 stood for, 6 cylinder, Rally, 4-wheel drive and its 400bhp, V64V engine enabled the car to hit 60mph in just 3.2secs and 100mph in 8.2secs.
Its 3litre V6 engine was designed by David Wood an ex Cosworth employee. 200 cars were to be built for homologation purposes. Most of these cars were built to a Clubman Spec which had a 250bhp engine, with a single throttle injection system rather than the 400bhp engine with a multiple injection system used on the International spec cars.
It was entered in Group B of the World Rally Championships. But due to some fatal accidents Group B was cancelled at the end of 1986. The 6R4's best WRC result would be the third place in the 1985 Lombard RAC Rally driven by Patrick Pond. It had other success including winning Gwynedd Rally in October 1985 and many club successes.
Austin Rover pulled out of motorsport in 1987 and sold off its stock of 6R4's by reducing the price from the original £45,000 to just £16,000. They also sold the design of the V6 engine to TWR which after development appeared in Jaguars Group C racers.
The 6R4 continued to compete in private hands wherever it was accepted, usually in 250bhp 'Clubman' spec, but the full potential of the 400bhp 'International' version will never be known.
Product Description
NEW: Especially designed for the MG Car Club
Additional Information
| | |
| --- | --- |
| Weight | kg |
| Size | MG 6R4 Socks – L: 41-46 UK (7½-11½) US (8-12), MG 6R4 Socks – M: 36-40 UK (4-7) US (4½-7½) |