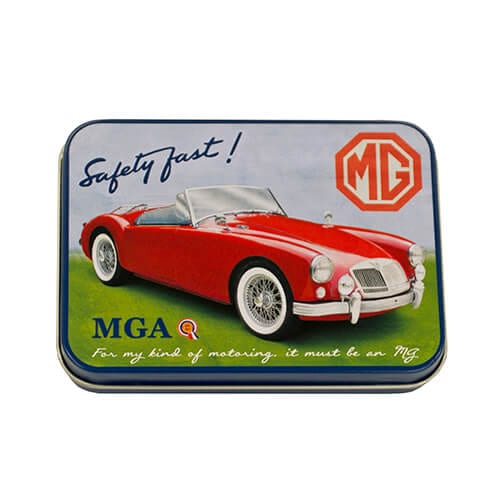 MGA Keepsake Tin
Small keepsake tin featuring the MGA with the Safety Fast! tagline and MG logo.
Product Description
Metal tin with MGA 'Safety Fast!' advert printed on the lid.
You may also like
MG P Type Midget Classic Advert Canvas

A classic advert from the 1930s used to sell the MG 'P' Type, recreated on a box canvas, supplied with pre-cut holes, ready for hanging.

Dimensions: 12″ x 16″ (30cm x 40cm)

MGA Twin Cams At Goodwood Print

Limited edition print of 251, signed by Dennis Wharf. MGA Twin cams at Goodwood in the 1960 Tourist Trophy as part of the 70th Anniversary of the MG Car Club.

Dimensions: 22.5″ x 17.5″ (57cm x 45cm)

Shell Oil Keepsake Tin

This keepsake tin is ideal for keeping those small items safe. Tin lid features a vintage 1930s Shell Motor Oil advertisment.