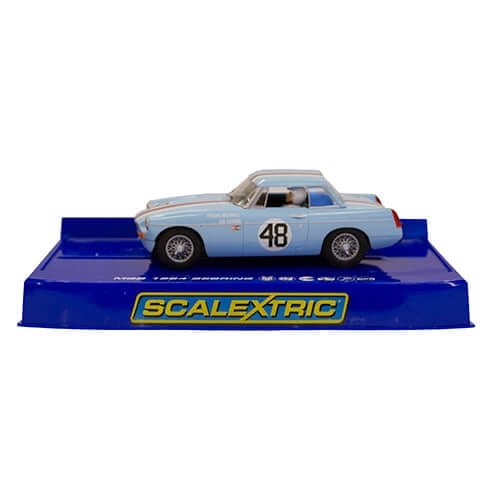 Scalextric MGB 48 Sebring Car
A great iconic British sports car for the Scalextric classic car enthusiast.  This version is modelled on the team car sent to the USA for the Sebring 12 hour endurance race in 1964.
Drivers: Jim Adams, Merle Brennan and Frank Morell, 1964 Sebring 12 Hours
Sebring in 1964 was one of the world top-tier endurance races, part of the FIA Challenge Mondiale and Prototypes Trophy, along with the Targa Florio, Le Mans, and the Nurburgring 1000 km. Two of British Motor Car Distributors team of red, white and blue MGBs finished the grueling 12 hours, an extraordinary achievement demonstrating the competitiveness of the MGB. The car, the Iris Blue #48, consistently lapped the Sebring course in the low four-minute range to come home fourth in class and 22nd overall. Following the race, the car went on to establish a long and successful SCCA racing history. The Sebring parts were carefully preserved, and were passed along with the car to each new owner. The car has since been meticulously restored to its 1964 Sebring configuration.
Scale: 1:32
Manufacturer: Scalextric
Product Description
Scalextric MGB 48 Sebring Car
You may also like
Scalextric MGB Roy McCarthy

Scalextric MGB Thoroughbred Sports Car Series No.40 driven by Roy McCarth. Roy McCarthy and his two sons, Russell and Spencer, formed McCarthy Motorsport using Roy's knowledge and expertise with MGs. Over the years, the family took hundreds of podiums and class wins across many historic racing championship classes.

Scale: 1:43

Manufacturer: Corgi

Scalextric MG Metro 6R4 Peugeot 205 T16 set

1986 Rallye Monte Carlo: Peugeot 205 T16 E2 – The 1986 drivers' championship was won by Peugeot's Juha Kankkunen, followed by two other "Flying Finns", Lancia's Markku Alen and Kankkunen's teammate Timo Salonen. Peugeot Talbot Sport's factory 205 T16s under Jean Todt were the most successful cars to compete in the last two years of the World Rally Championship's Group B era, winning the 1985 and 1986 Constructors' and Drivers' titles. MG Metro 6R4 – British drivers Tony Pond, Jimmy McRae, David Llewillin and Malcolm Wilson all drove the MG Metro 6R4 Group B rally cars for the Austin Rover World Championship Team with varying successes in 1985 through to 1987. For the famous Monte Carlo Rally of 1986, Tony Pond was the highest finishing British driver being forced out of the competition following an accident on Special Stage 6 resulting in a 36th place finish. Scalextric Special Features: Digital Plug Ready Easy Change Pick-ups High Detail Magnatraction Working Rear Lights Xenon Effect Headlights