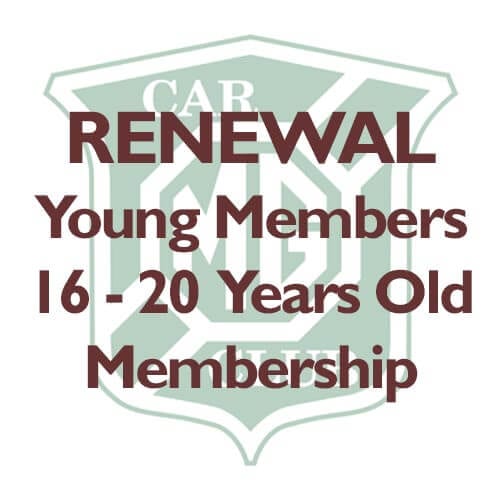 RENEWAL – Young Members aged 16-20 Years
Young Members (16-20 years) renewal to the MG Car Club.
As well as twelve online editions of our award winning Safety Fast! magazine, and becoming a member of your local Centre and Register for your MG(s), MG Car Club membership can save you money on insurance, tickets, parts and much, much more.
Renew here by debit card and credit card. To renew by direct debit, please call the office on 01235 555552.
Please include your date of birth below for verification purposes.
Also, make sure you join our Young Members Group on Facebook HERE
You may also like
MG Car Club Top Trumps

Specially commissioned by the MG Car Club, this unique take on the classic Top Trumps game contains thirty iconic MGs from the earliest days of the MG Car Company, all the way through to the MG6, 3 and GS. Comes with free bonus card of Old Number One

Small MG Car Club Grille Badge

Small MG Car Club grille badge, ideal for use on the more modern cars, such as MGF, TF, Zeds and current MG3, 6 and GS.

Supplied complete with screws and fixings.