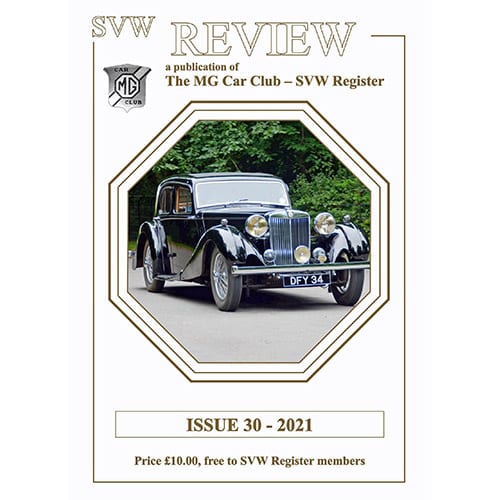 SVW Review 2021 Yearbook – Advance Orders
PLEASE NOTE: THIS ITEM IS CURRENTLY AVAILABLE FOR ADVANCED ORDERS. STOCK IS EXPECTED JUNE 2021.
SVW Review Issue 30, 2021
The Review is published each year in early June. It is sent free to MG Car Club members who own an SVW car at that time, and is also available for purchase by non-members.
Non-members are invited to place advance orders for the next edition at the reduced price of £8 plus P&P. Orders placed after publication are £10 plus P&P. Do not forget to provide a delivery address with your order.
P&P varies depending on the address. UK deliveries are at £1.50, Mainland Europe and Scandinavia £5 and the Rest of the World £6.
Back copies of the Review are available to members and non-members at £5 plus P&P, from issues 1 to 25 inclusive (there was never an issue 4). Issues from 26 onwards are £10 plus P&P. Full sets are available at £85 plus P&P (or £80 excluding the current edition), a very substantial saving over the list price. Orders for back copies are not available from the online shop but should be emailed to info@swregister.co.uk.