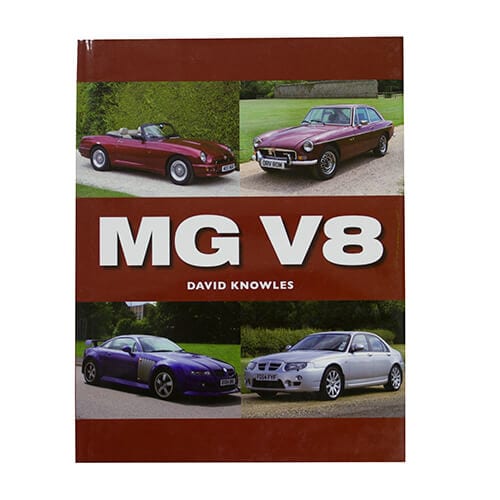 MG V8 by David Knowles
Tells the story of each MG V8 model from concept to development and production. Illustrated with 400 pictures including concept cars, design sketches and specially commissioned photography. Interviews with the original V8 design and engineering teams.
Detailed information tables of notable cars and their chassis numbers for each model, plus special editions and colour charts. Background on development and testing work on each model. Rare input and insight from many of the suppliers and specialists who helped develop the cars. Information on sales and servicing literature, production changes, product placement, celebrity stories and much more.
You may also like
V8 Buyers Guide

One of the most successful features in the MG Car Club's monthly magazine Safety Fast! over the last few years has been the "So you want to buy an MG?" series of buyers' guides. Those guides have been both comprehensive and authoritative as they have been well researched and prepared by Club members who clearly know their individual models very well. This book contains the guides to the MGBGTV8 and the MG RV8 models together with a five part guide to buying a classic MG and useful checklists and other materials.

MGB Electrical Systems

This book is essential reading for every MGB enthusiast. The mechanical aspects and the restoration of the vehicle have been written about in numerous publications but the so often maligned electrical systems has never before been comprehensively covered. For those new to vehicle electrical systems the book provides a simple primer using mechanical analogies. Each system in the car has its own chapter, with simple and uncluttered circuit diagrams in which each wire can be seen in its real colours. More than a how-to-do guide, the book also explains the why of each system and procedure, aiding diagnostics when things don t go quite as they should. The many fault finding guides help pin those elusive problems down. For those wishing to improve the car for reliability and safety.

Everyday Modifications For Your MGB, GT and GTV8

MG expert Roger Parker gives his advice on maintaining and modifying MGB, GT and GTV8 cars, with some additional reference to the MGC and MG RV8 models.

With safety information throughout, the book covers: regulations, insurance and market value for all models; routine maintenance; body and interior changes; brakes, suspension and steering; engine improvements for the original 1798cc B-series engine and other engine alternatives and finally, installing and updating electrical equipment and lighting.